In Delhi, the sun shines so bright, Amidst the hustle and bustle, what a sight!
From Red Fort to Lotus Temple, There's so much to explore and sample,
In Delhi, your heart will take flight!
Address: A-6 Friends Colony East, New Delhi – 110065
Room price: Rs. 4,000/-  per night for the ground floor room: Rs. 5,000/- per night for the first and the second-floor room.
Extra bed cost: Rs. 1,200/- per night.
Room Ground Floor Photos   Room First Floor Photos    Room Second Floor Photos
A/c Room per night with ensuite – up to 2 persons. Open all year round, no minimum stay. Breakfast included.
Check-in: 1 pm / Check-out time: 11 am
Booking deposit: One night via PayPal. The amount and the link will come in the email.
Transfers are easily arranged. Very helpful for first-timers.
Refund and Cancellation:
Full refund – for cancellation up to two weeks before the arrival date.
50% refund – for cancellation up to one week before arrival.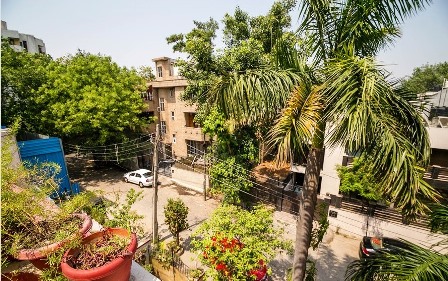 No refund  – for cancellation less than one week before the date of arrival or for a no-show.
Early Check-In/Late Check-Out Terms – additional 50% of the tariff, if available.
Early check-in (8 am to 11 am)
Late check-out (11 am to 8 pm)