A few suggestions for you to plan your New Delhi Agra day trip so that you can make the most of it, your own Agra day tour package.😀
One advantage of staying at our bed and breakfast in South Delhi is its location for making a day trip to Agra, to visit the Taj Mahal.
Our location is ideal for both the road trip and train journey consequently saving you considerable time in the internal Delhi commute. 
As the trip involves an early start, we will give you a small breakfast packet so that you can get some calories inside while watching the lovely countryside roll past.
Varying as per the time you choose to spend at the monuments or in the market you can expect to be back at our BnB between 6 pm to 10 pm.
If you don't eat on your drive back, then you can ask your driver to drop you at the New Friends Colony Community Centre, for dinner.
Now, let's dive a little deeper.
The Road Trip
It is easy to drive to the Taj Mahal via the expressway as our location is at the start of the Expressway to Agra. 
Because of the location, you can start as late as 3 am and drive to Agra and be at the Taj Mahal for Sunrise View. It is about 3 hours drive.  Sunset view of the Taj Mahal is possible if you plan your day accordingly.
 The drive to Agra is relatively smooth, and the countryside is fertile, with lush green swaying fields for most of the year. There are facilities and restaurants, including the famous fast-food international restaurants en route. However, try the Indian variety.
During winter, there is a thick heavy fog which for many days can obstruct the sunrise view of the Taj Mahal. Driving conditions become challenging. Therefore, it is better to avoid the 3 am start. But 5 or 6 am will be a good time to start.
During these foggy months, our advice is to take a car and a driver, not the train. Trains can get significantly late due to the fog.
On your way back via the expressway, you will reach Delhi BnB before you hit the first red light. Quick out and quick in.😀
The Train trip
Nizamuddin railway station is hardly 7 minutes away, the station from where many trains to Agra depart. The station has multiple displays of the schedules. It is easy to locate your seat if you are just a routine alert about your surroundings. Or you can hire the porter in the red coat to take you to your booked seat.
Our recommendation is to pre-book the train tickets, most importantly, for both sides of travel.
One option is to go by train and come back by car. You can hire the vehicle for Agra sightseeing and then it can bring you back to Delhi. Ideally, you should book your ride for Agra sightseeing in Delhi, therefore, ensuring that someone receives you at the Agra station with your name placard. It will help you quickly navigate the cacophony of Agra station.
Indian railways serve meals on the train, sourced from caterers. You have both the options – Vegetarian and Non-vegetarian.
The train journey has many exciting dimensions to it. Notable is the railway platform experience.
Be careful at the station and do not get conned by sweet-talking people. One tip to follow: Shun those who approach you to help. If help is required, then walk into an office of the railways and ask for help. Otherwise, you may get convinced to buy a package for Kashmir! 😀
The Railway Station scam
I relate one particular guest experience from a few similar experiences. A couple chose to take the train to Agra. They had confirmed paid reservation. At the New Delhi railway station entry, a well-dressed official-looking man approached them and asked for their journey particulars and requested to inspect their tickets.
He told them while their tickets are valid, they cannot embark on the journey as the concerned train got cancelled. As an alternate, he suggested hiring a car and a driver. The lady believed him and said to her partner that let's take the driver deal. However, the gentleman said to her that precisely this kind of approach is about what Pervez had cautioned. And he said let's move on to the platform and see for ourselves if the train has been cancelled or not.
He and an unhappy lady moved on towards the designated platform and midway to it, another person opened a conversation with them, with the same story – that the train has got cancelled, better to hire a car and a driver. The lady said, see, told you to believe the first person. The train stands cancelled, and we have unnecessarily walked this long-distance dragging our bags. Taken aback and with some doubt yet doggedly, he asserted that only after he has seen it with his own eyes at the platform, will he believe these cancellation claims.
Smart thinking saves the day
And he continued his walk towards the platform, with a furious partner grumbling as to why will such nice, personable people will lie. At the platform, the train was there, not cancelled. They hopped on to it and made their journey to Agra. When they came back for their 2nd stay, they recounted to us all of their station experience in detail, with a request to share it as much as possible. I do that here lengthily and in conclusion, hope that you can avoid similar traps.
Similarly, be on guard at the airport. 
Road Trip vs Train Journey – Advantages of either listed
Advantage road:
Sunrise view of the Taj Mahal is only possible if you drive early for Agra. 

You may strike a bond with the driver and due to this, there is a chance that if he comes from the area, then he could take you to his village. However, stay alert to copious sob story designed for emotional blackmail.
Advantage train:
Train journey gives you more room, stretching of the legs.

On the train, you may strike some exciting conversations with the locals. Cricket and claims of having watched some Bollywood movie will give you an instant break.

Trains are compulsory for those who love heavy metal travel.
A few ideas for your day in Agra
The Taj Mahal, of course. 
The Taj Mahal is a majestic monument and will impress you even if you have seen a million photos of it. It's Queen regalness, haughty and austere dominating look, touch me not vibes will still manage to create an everlasting bond with your heart. Your first vision of the Taj Mahal is going to be magical.
We must confess that there have been a few guests in or BnB, Delhi who chose not to visit the Taj Mahal considering it a too touristy thing to do. We, of course, tried to convince them otherwise, but alas, to no avail.
The times to consider are sunrise, sunset and full moonlight but that these times also get crowds. Also, the view from Mehtab Bagh, which is across the river. A car and a driver become useful for this visit. For full moonlight, it happens for three days around the full moon date—entry into the Taj Mahal requires booking.
A small fact: 
Shahjahan built Taj Mahal for the love of his wife, Mumtaz. Mumtaz died elsewhere, and later on, her body got reburied inside the Taj Mahal.
It's a UNESCO World Heritage site.
The Agra Fort – a follow up after the Taj Mahal. 
It is not very far from the Taj Mahal. Akbar built the massive Red Fort under his supervision to impress the masses and send a message to them, that he is here to stay. He used to visit the construction site frequently. Empire builders use this concept very well.
The Agra Red Fort is where Shahjahan, builder of the Taj Mahal and the grandson of Akbar, was imprisoned by his son Aurangzeb. Shahjahan passed away his last years gazing at the Taj Mahal from his Red Fort chambers. It's a UNESCO World Heritage site.
Sikandara.
A personal favourite. It is here where Akbar lays buried. While it is a grand building, the grave is not that ostentatious—the Jats who had risen against Aurangzeb (Akbar's great-grandson) had plundered the riches in that rebellion. Even Akbar's grave got dug up, his bones burnt says one account.
For me, it was a sobering effect, the realisation that this how the mighty emperor Akbar lays, a telling statement that inspires a person to consider something spiritual. 
Now, if you visit Fatehpur Sikri and come back to Agra to go back to Delhi, Sikandara is on the way. It's a UNESCO World Heritage site.
Whether you choose only to visit Sikandara or both Fatehpur Sikri and Sikandara, your driver can suggest to bring you back via the Mathura road. It is the dominant instinct whilst at Sikandara, for Agra is behind, and the road ahead to Delhi beckons. But this is not our recommendation. 
Our advice is to go through Agra again, to get on to the expressway. These additional 30 odd minutes through Agra are worth it for you may well spend more than two hours if you drive back via the Mathura road. You will encounter many red lights on Mathura road. 
Dayal Bagh
a spiritual/pilgrimage site for the adherents of Radha Soami Satsang faith. The site is under construction for over 100 years and is a memorial to the founder of the Radha Soami Satsang faith – Shiv Dayal Sahib. Its design is a medley of a mosque, temple, gurudwara, vihara (Buddhist).
Visit the local Agra market.
Marble work, carpets are famous exports of Agra.

Some of the marble work is very intricate, beautiful, and you can get tempted to acquire it. Same can happen for the carpets.

However, try and use a trusted or recommended vendor in case of post-purchase issues.

You can sample Agra's two world-famous local delicacies. Petha (sweet) and Bhujiya (savoury). 
A Cafe Managed by brave #AcidAttack Survivors, the cafe serves you food with a flavour of love and warmth. They need all the support.
Fatehpur Sikri – A short excursion from Agra
Depending upon your energy levels, you can drive to Fatehpur Sikri. Fatehpur Sikri, or the ghost town, as the people abandoned it due to lack of water many centuries ago, is a stunningly handsome monument, oozing masculinity. It was the capital of Akbar.
Notable of the palace is the distribution of his main wives chambers. This is important because he had wives of different faiths. The palace houses the shrine of the Sufi saint, Saleem Chisti. It is by his blessing that Akbar got a male progeny and because of this Akbar honoured him with a burial site within the fort. 
It's about 45 Km from Agra, about an hour's drive. History tells us that during the Mughal reign, the road between Agra and Fatehpur Sikri was a busy road with many markets dotting the highway. That, of course, is no more there now.
We, the hosts at the Delhi B&B stand divided deciding between which is a better monument -the Taj Mahal or Fatehpur Sikri? The score is 50:50 for us.
Fatehpur Sikri is en route to Bharatpur Bird Sanctuary and on the road to Jaipur. The famous golden triangle tour uses this route. How you can do it efficiently is a subject for another post.
Some taste of wildlife
Monkeys
Interaction with monkeys. Monkeys populate Sikandara thus you will have ample opportunities to interact with them. They are fearless in approaching you and accept food from your hand. I have carried some tidbits for them to keep them happy. But they are mostly harmless and great fun.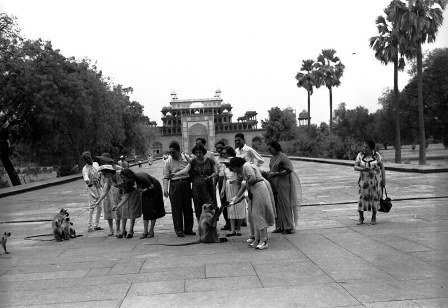 Bears rescued from dancing are taken care of here. The parent organisation has many locations all over India taking care of myriad life forms – elephants, reptiles, leopard, monkeys. The bear rescue facility is near Mathura. If you visit it, then get on to the expressway from the Mathura entry point for coming back to Delhi.
You can consider making a separate day trip to the rescue facility from Delhi because you may want to spend more time here.
Some tips:
Use the expressway. Avoid Mathura road, especially if you come back from Fatehpur Sikri. 

Do carry a hat. 

Keep yourself hydrated.

Some sun protection.

A pair of socks. The floor gets incredibly hot.

The Taj Mahal ticket also gets you entry in the other monuments of Agra and Fatehpur Sikri. A specific monument can have a small additional local charge to pay.

Taj Mahal restricts visitors. So, plan accordingly.