Safe for Single Women. Children Welcome. Unique Haveli Architecture. Free Hi-Speed Wifi.
We, the hosts, Sheikh Pervez Hameed (Pervez) and Lubna (plus two dogs), cordially invite you to our modern facilities home, a bed and breakfast in Delhi, for an authentic Indian experience. Friends Colony East is a posh South Delhi residential area (an exclusive gated and green community). Our location allows us to easily access nearly all parts of the Delhi NCR, including Old Delhi, within 30 minutes of driving distance. Gurgaon (Gurugram) is about 45 minutes away by car. This location is suitable for tourism, education, business, cultural, medical, spiritual, food, theatre, music, and dance shows. The Ashram metro station (Pink Line) is only three minutes away.
We welcome you to India, a jazz republic without a written score! Begin your safe experiential tour of India right here. You'll be surprised at how quickly you learn to navigate India confidently. In India, the guest is regarded as a representative of God, and this concept is ingrained in every Indian. You will encounter this everywhere, and hopefully, it will stay with you for the rest of your life. We cordially invite you to ride India's roller coaster. Whoopee!
To the first-time visitor, Delhi, India's capital, also known as the City of the Sufis, can be intimidating, chaotic, and a madhouse (your senses will be maxed out with all sensory assault), but it is also one of the world's most fascinating places. The sheer size of Delhi can be overwhelming. Delhi perfectly captures India's psychedelic show. Its complexities can be perplexing. On the other hand, a stay with us acts as a shock absorber and can provide you with a meaningful and positive experience of Delhi and India.
You will have the opportunity to experience friendly Indian hospitality in our home with a difference and engage in everyday life as Indians do while enjoying all modern creature comforts. Many of our guests have said that our home is like an oasis in New Delhi. We think this is because our home is full of green plants.
You stay in a spacious private residence with multiple sun-kissed terraces, not a modern mass-produced apartment. You stay with us as an honoured guest, becoming a part of our family for a short or long period, in a uniquely built three-story house (1973) in the traditional Indian courtyard style. Two generations live together (our sons). Our guests keep returning because they genuinely believe this is their home away from home. Our neighbourhood is safe to walk around in, and there are a few parks where you can relax.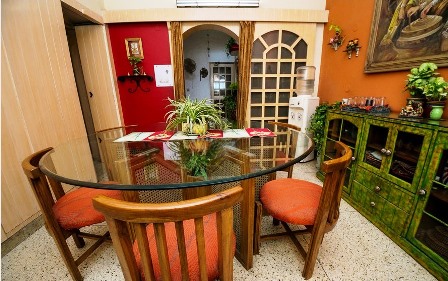 A stay here is more personal, caring, and intimate than a standard B&B, guest house, or hotel. Experience sharing, caring, warmth, and a spiritual atmosphere. We do things together whenever possible. Perhaps a chess game with Sheikh Pervez Hameed, a meditative session, or a quick trip to the local market with Lubna. Expect to engage in chatty debates.
We can set you up with interesting people who share your interests. You might get to meet our neighbours and have interesting conversations with them. Guests from around the world have stayed with us since 2005, and a few have become life-long friends.
Our B&B rooms are well-appointed, tastefully furnished, spotlessly clean, and air-conditioned. They have attached private and exclusive bathrooms with western toilets, hot water (geysers), entirely made-up beds (double or twin), and very comfortable mattresses. There are two types of safe drinking water: one produced by a RO machine and the other by a distillation machine imported from the UK. Fill up your water bottles. All rooms have free WiFi.
The Food at New Delhi's Bed Breakfast.
Many people have praised our breakfast variety. Breakfast is often used to discuss itineraries, get ideas and solutions for future travel, or ask questions about Indian culture. Breakfast consists of an Indian preparation, eggs, cereal, juice, milk, coffee, tea, tea, seasonal fruit, jams, marmalade, toast, and your choice of egg preparation. Gluten-free and vegan breakfast options are available—the option to watch or participate in authentic Indian meals prepared by the hostess. We are a food lover's paradise with first-rate hospitality. Perhaps you can bring some secret recipes with you.
Indian markets like Lajpat Nagar, Bhogal, Hauz Khas Market, Greater Kailash I and II, and Defence colony are not very far. Nearby, you can walk to stores that sell almost everything. Walk around, buy gifts, or watch people. The New Friends Colony Community Centre is the closest place where things are going (20 mins walk). There are a lot of salons and restaurants that serve almost every kind of food. There are also many ATMs and money exchanges.
Nearby attractions include Humayun's Tomb, Art of Living Centres, Rajpath, Presidential Palace (Rashtrapati Bhawan), Delhi Golf Club, National Museum, Central Cottage Industries Emporium, Shankar's International Doll Museum, Vijay Chowk, National Rail Museum, Lotus temple, Nizamuddin shrine, Connaught Place, Old Delhi, Red Fort, Chandni Chowk, Jama Masjid mosque, India gate, Suraj Kund, Badkhal Lake, Lajpat Nagar, Greater Kailash markets, Khan Market, Lodhi Garden, Indira Gandhi memorial museum, Crafts Museum, National Science Centre, Pragati Maidan, Akshardham Temple.
We are well-educated, well travelled, and English speakers. Sheikh Pervez Hameed (Pervez) is fluent in French. But just a little. Sheikh Pervez Hameed (Pervez) knows a smattering of French. Mais, un petit peu. Sheikh Pervez Hameed (Pervez) knows a smattering of French. Mais, un petit peu.
So pack your bags and begin your Incredible India journey from our B&B in New Delhi. Your trip to India should include more than just meeting hotel employees, tour operators, taxi drivers, pushy salespeople, and beggars. You will be experiencing India at an Indian home with us. "Their stay with us allowed them to see the real India and not a sanitised blinkered version," one of our guests said. We welcome couples, families, groups, and children for any reason. Tourism can take many forms, such as attending a wedding, pursuing educational opportunities, or seeking medical treatment. Dental Tourism, Cosmetic Surgery, Face Lifts, and Spine Surgery is examples of Medical Tourism services.
Your questions are welcome – Do you have some questions or concerns? Well, you should ask them right away. Your questions help us learn, and we want you to have a good time.:-)